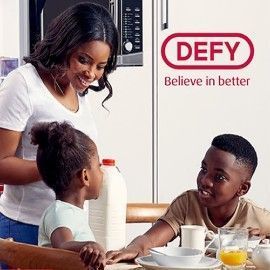 Defy channel incentive bolsters product knowledge and sales
It was back in 2018 that global management consulting firm, McKinsey, first noted that "salespeople shouldn't be told what to do; they should feel persuaded toward behaviours that will support a company's go-to-market strategy".
In outlining its approach to achieving this, one suggestion was that incentive programmes used 'staged compensation' that encouraged both short-term and long-term focus, to help the salesforce stay motivated over long periods of time. 
This is a model that FoneWorx has long used for its programmes. So, when Defy approached the company to design a staff incentive programme that would do just that, the FoneWorx team looked to an integrated website and a mobile app system as the solution, where sales agents could claim incentives against Defy sales made in stores.
The mechanics
After each sale, agents logged the sale on the app or website, which was then verified by cross-referencing the sale with till slips showing the store name, time and date of sale.
Once claims were approved, a pre-determined value for that product was paid to an online wallet for the sales agent. Store managers automatically received a portion of this amount.
All programme members were issued with Mastercards linked to their online wallet accounts. They could then cash-out their incentive funds into the card account, and use the card at any Mastercard-supported POS in South Africa.
An internal admin portal was developed for Defy representatives to approve new programme members and stores, and for FoneWorx to use for day-to-day operational management of the members, stores and claims.
Defy management used a dedicated online reporting platform to report on payouts, sales trends and sales performance.
Although the programme was originally implemented in less than three months, the FoneWorx team regularly upgraded and improved the functionality of the system.
The results
The programme was highly successful, meeting all Defy's incentive objectives. Based on this success, Defy requested that the system be upgraded to include a full training platform, where programme members could complete multiple quizzes under different categories. If all quizzes were successfully completed, members qualified to earn a cash reward, which was paid into their online wallets.
This provided a solid, incentivised training opportunity for the salesforce, and a chance to increase their product knowledge.
In addition, Defy required a separate offline solution where stores' and franchise stores' (multiple stores with the same owner) monthly sales data was calculated and from this, the best performing stores identified. These store owners received their incentives as direct EFT transactions.
One of the standout results of this incentive solution was that it was flexible enough to allow a Defy representative to directly control the payments from the online wallets to the Mastercards. This ensured that the funds being loaded onto the cards came from a Defy-owned bank account. 
Another bonus was that the development team was entirely inhouse, allowing any new features requested by the client to be quickly and efficiently rolled out.
Defy also applauded the availability of FoneWorx's platform and the team's quick turnaround time on claim moderation and payments to online wallets on a day-to-day basis.
The insights
Bespoke incentive programmes like this one have a greater impact because they really connect with the sales team. Not only was this programme branded with Defy's corporate identity for instant recognition and top-of-mind awareness, but it also enabled Defy to directly communicate with and motivate salespeople on the floor. 
Other incentive programmes are generic, where various brands are incentivised via one platform. This dilutes the exclusivity and incentive to push sales of a particular brand, undermining the effectiveness of the programme.
This programme allowed Defy to drive sales in its channels - especially of new products - and host targeted incentives to clear stock of specific products. It also established a good working relationship between the brand and sales agents, increasing brand awareness and overall sales, and had a strong focus on product training.
"Channel incentive programmes have become more important than ever," explains Graham Groenewaldt, Managing Director FoneWorx. "Consumers are more informed when making purchase decisions, and do their online research before walking into a store. In fact, many have already made up their minds as to what they are going to buy. Salespeople have an opportunity to build on this and either upscale the purchase decision to a more expensive product or cross-sell other products. Either way, product knowledge and ongoing product training is essential to do this, as are incentives to close the deal when a customer arrives in-store ready to purchase. Defy's programme ticked all these boxes."