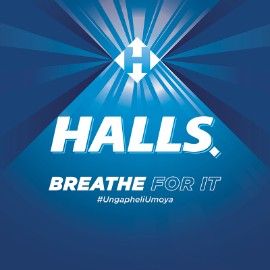 FoneWorx helps breathe new life into Mondelēz brand
Client: Mondelēz South Africa
Campaign: Breathe for It
Objective: Halls is a long-standing, prominent player and trusted product in South Africa. However, in 2021, it was noted that while the brand was the leader in a niche market category, there was room for significant growth within the broader category. It wanted a campaign that would shift perceptions from Halls being 'just a lozenge' to it being a purposeful brand that helped consumers breathe better, think better and live bravely. The campaign also needed to establish relevance among the core target audience, Generation Z.
Channels: FoneWorx developed a rewards-based loyalty campaign aimed at Gen Z using WhatsApp as the primary channel. The campaign backend was complex and intricate, heralding what was possibly the first campaign of its kind in South Africa.
Mechanics: To participate in the campaign, instantly claim R10 free airtime and starting earning points to claim a share of R200 000 in guaranteed rewards, consumers had to buy a Halls product and WhatsApp the number on the pack.
From there, users were prompted to register by providing proof of purchase (a photo of their till slip) and answering a few demographic questions.
Participants could earn points for every Halls product purchased and till slip loaded. Different products carried different point values i.e. Halls XS (15 points), Halls sticks (20 points), Halls Energy (20 points + 5 bonus points) and Halls Sugar Free Bags (30 points). The points could be redeemed for airtime, Superbalist vouchers or cash.
Entrants could also request their own personal share code (an option listed on the competition menu) to invite friends to the competition. The user with the most link shares, and most referral conversions, won a Superbalist voucher worth R150. New vouchers were up for grabs each week.
Each new till slip loaded by a user doubled as an entry into the grand prize draw of R10 000 and a pair of personalised sneakers from Karabo Poppy.
The FoneWorx team conceptualised the functional WhatsApp messaging for every step of the campaign: first point of contact, registration and menu, as well as the supporting messaging that could be accessed via the menu. These included 'how it works', 'number of points per pack', 'rewards up for grabs' and 'find out more about Karabo Poppy'.
The team was also responsible for all campaign logistics, such as validating till slips, issuing airtime vouchers, issuing product points, redeeming rewards, and providing and tracking the share code links.
The backend planning and implementation was complicated, with individual users' wallets and their differing rewards all having to be carefully managed.
Results: More than 1 248 people registered for the loyalty programme over the three-month promotional period. A total of 1 896 till slips were successfully received. Everyone who entered the competition received a share code, with some people sharing their code with up to 16 different friends.