We've been busy
We're always finding new ways to inspire brands, marketers and agencies to connect with customers. Browse through our news articles to see what we've been up to lately.
News | 5 ways to use QR codes in your next campaign
5 ways to use QR codes in your next campaign
May 15 2023 By FoneWorx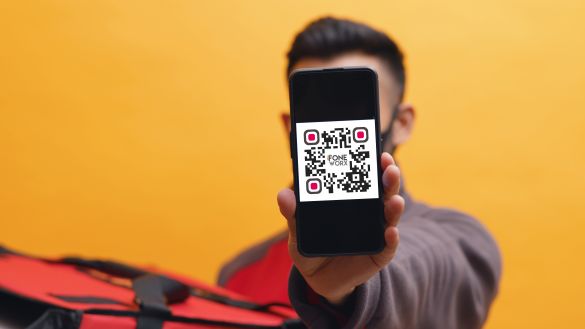 Fact: 11 million households scanned at least 1 QR code in 2020 in the US up from 9.76 million QR code scans in 2018*.
Fact: The QR code global market size is expected to reach US$1268.1 million by 2026*.
Fact: FoneWorx has seen QR code call to actions in SA triple in the last year.
QR codes have moved well beyond their original purpose as information labels to track parts on a vehicle assembly line to become essential components of customer engagement strategies.
It's true, QR Code Generator says the proliferation of wider mobile network coverage over the years, coupled with an increase in smartphone web content, has created 'the perfect conditions' for the growth of QR codes.
The site says that with the integration of a code reader in the latest iPhone and Samsung phones, 'QR codes have become more accessible, granting quicker access to valuable information. The advent of the branded QR code means they also now offer a more meaningful connection to brands and products through design'.
There are two primary ways of using QR codes in a marketing campaign:
The traditional way, where a QR code routes to a URL that cannot be changed
The dynamic way, where a QR code routes to a dynamic link that can be rerouted to a website, chatbot page, fill-in or feedback form, Facebook messenger, USSD or IVR
Either way, the addition of the QR code levels up customer engagement as it proactively encourages users to scan the code with their phone, and then interact with the brand once at the QR code destination. This user-led experience replaces the historical sales-led experience.
The cherry on top is just how mobile friendly QR codes are, pointing not only to their efficacy in our increasingly mobile-oriented world, but their ability to future proof marketing campaigns.
So, what's the best way to use QR codes in your campaign? Here's our pick of the 5 best:
1.    On outdoor media
From bus stops to billboards, QR codes are easily applied to outdoor media. As you know the exact locations of the outdoor sites you choose for your campaign, you can customise the QR code information to be location specific for the ultimate in audience targeting.
2.    On product packs
It seems obvious to include QR codes on packs, but think beyond mere product information to value-added extras like recipes or alternative product uses, and your QR code will not only be encouraging customer engagement, but brand loyalty too. Alternatively use on-pack QR codes for competitions, including entry mechanisms, prizes, and Ts and Cs.
3.    On receipts
Including a QR code on your receipts provides a fantastic opportunity to gather customer feedback on their experience of your product or store. It takes up no space at all, and allows them to complete the survey in their own time. Provide an incentive, like a discount on their next purchase, to encourage participation. QR codes on receipts are also great for competitions, promotions and giveaways.
4.    On coupons
South Africans are tightening their belts, and with that turning to cost-saving measures wherever possible. Coupons are an excellent way to foster brand loyalty during difficult times. QR codes make it easy for customers to redeem coupons and for you to keep track of redemption rates.
5.    On digital media
Websites, social media and gamification assets all present solid opportunities to boost another branded digital media offering - your brand's app. If you have launched an app and want to get more downloads, tell your digital-savvy customers about it by including a QR code in the places where they are already interacting with your brand. Scanning the code will take them directly to the download page rather than hoping they will visit the app store themselves.
Where there's a marketing opportunity, there's a QR code application to suit it.
FoneWorx has extensive experience in incorporating QR codes into high-impact engagement strategies; chat to us about making it the star of the show in your next campaign.
*Source: Statistica